BIOS
---
Singer, guitarist, and songwriter Gary Santarella has been performing across New England and South Carolina, either solo or with his band, for over 40 years. He has recorded original music since 1982 in recording studios in Massachusetts and Rhode Island. His latest 6-song CD of original music, "Unconditional Love", is a country rock mix and has garnered rave reviews. Throughout his career he has performed or interviewed at many radio and TV stations, including WAAF, WCGY, WZLX, WLLH, KISS 108, and Worcester Television.

---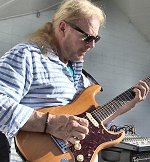 Recently inducted into Boston's "Country Music Hall of Fame", guitarist Bobby Stanton was featured several times on Garrison Keillor's "A Prairie Home Companion" and has played and/or recorded with James Taylor, Mark O'Connor, Richie Havens, Susan Tedeschi, Livingston Taylor, Charlie Daniels, Fabian, Leslie Gore, Little Anthony, Del Shannon, and many more. In addition to winning 7 Boston Music Awards, he has also received awards from ASCAP and BMI. Bob is a professor at Berklee College of Music and McNally Smith College.

---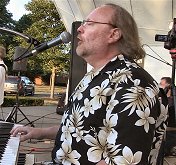 Keyboardist Steve Aubert is a veteran of the Boston music scene. He has played in the top local bands for over 30 years. He has backed up a variety of entertainers from Joe Piscopo from SNL, Koko Taylor, Lou Marini from the Blues Brothers, Charles Neville, world-famous jazz percussionist Bob Moses, and Luther "Guitar Junior" Johnson, and has played in venues across the U.S. His music has been heard on radio, TV and the Miss America Pageant.

---
Bassist and cellist Roger Kimball has performed throughout the U.S., Canada, Europe and the Middle East with numerous ensembles and orchestras, ranging from Classical symphony to pop legends Carly Simon and Brad Delp. He has performed with "classics" Leslie Gore, Del Shannon, Fabian, Little Anthony, The Marvelettes, The Shirelles, and several others. Roger has appeared at The Bluenote, The Bitter End and CB's Gallery in New York City, and in Boston at Symphony Hall, Jordan Hall, Scullers, and The Regattabar, among many other venues.

---
Drummer Jim Lattini has extensive performance experience with renowned jazz artists including Randy Brecker, David "Fat Head"Newman and Bucky Pizzarelli, among others. In 1989 Jim toured the United States and Canada with The Artie Shaw/Dick Johnson Orchestra. He has also appeared in numerous performances with internationally known shows and entertainers including The Fifth Dimension, The Four Freshmen, Buddy Hackett, The Radio City Music Hall Rockettes, Jeffrey Osborne, The Rat Pack, Joe Piscopo, Don Rickles, and Joan Rivers. He has numerous television and motion picture recording credits including the sound tracks of the television shows "Melrose Place", "90210", and the motion picture "Analyze This".